ESAB Caddy Arc 151i, A31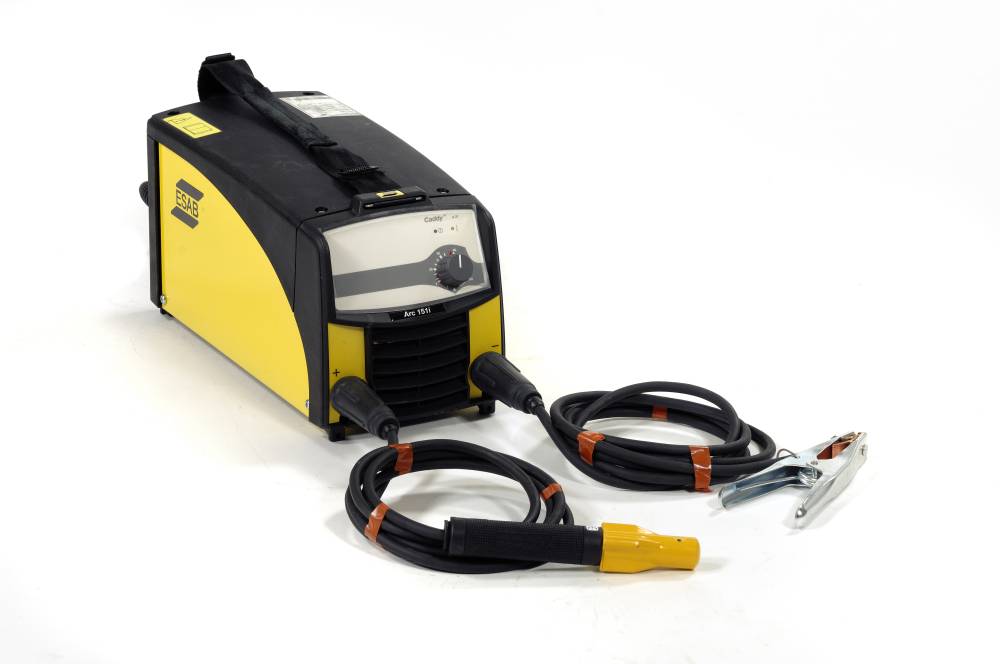 Caddy™Arc 151i
Draagbare oplossing voor professioneel lassen
De Caddy™ naam is altijd synoniem geweest aan robuuste en duurzame lasmachines ontworpen voor de professionele lasser. Bij de introductie van vijfde generatie van draagbare lasmachines van ESAB, hebben de laatste Caddy™ machines meer dan 30 jaar ervaring en Know-how in de inverter-techniek inzich.

Duurzaamheid Ontwerp
De machines zijn uitgevoerd met zware OKC 50 kabelklemmen van grote duurzame kwaliteit. Het compacte design met zijn stootvaste kunststof en aluminium kast, is licht en gemakkelijk te dragen en toch is de belangrijke interne koeling optimaal. Grote koelblokken en slim design zorgen ervoor dat de machines koeler blijft tijden gebruik met daardoor een veel hogere standtijd in zware omstandigheden. Het ingenieuze ontwerp draagt er zorg voor dat de kwetsbare componenten in de machine schoon en stofvrij blijven. Caddy™ voldoet aan de IP23 hetgeen betekent dat ze ook buiten kunnen worden gebruikt, zelfs in de regen. De controle panelen zijn simpel en gemakkelijk te gebruiken. Het duurzame design en de superieure laseigenschappen zorgen ervoor dat het machines zijn waar je dag in dag uit op kunt vertrouwen.

Controle Paneel
Het controle panel Caddy™ A31 heeft een één-knopsbediening waardoor het zeer gemakkelijk is te bedienen, zelfs met lashandschoenen aan.

MMA lassen
Caddy™ Arc levert gelijkstroom en je kunt de meeste metalen hiermee lassen zoals gelegerd- en on-gelegerd staal, roestvast staal en gietijzer. De Arc-force and hot start is automatisch ingesteld aan de hand van de ingestelde lasstroom hetgeen perfecte laseigenschappen garandeert voor alle machines in deze programmalijn Met de Caddy™ kun je de meeste elektroden verlassen van Ø1.6 -3.2 mm en sommige elektroden van 4 mm.
TIG lassen met de Caddy™ Arc kun je gemakkelijk doen met een strijkstart. Alles wat je dan nodig hebt is een gasklepje, reduceerventiel en een gasfles. Je kunt on-gelegeerd staal en roestvast staal zowel met als zonder toevoegmateriaal lassen. Kortom een kei van een machine
die zeer handzaam in het gebruik is.

Toepassingen
• Professionele lasmachine
• Voor binnen en buiten montage
• Voor binnen en buiten reparatie- en onderhoudswerkzaamheden
• Voor binnen en buiten fabricage

• Gebruiksgemak – gemakkelijk in te stellen en toch een perfect resultaat.
• Geniaal design – de machines is gemakkelijk te dragen waardoor je bijna overal bij kunt om te lassen.
• Robuust design – geschikt voor zware omstandigheden
• IP23 – geschikt voor buiten gebruik en alle werkplekken.
• Lange primaire aansluitkabel mogelijk – grotere werkradius
| | |
| --- | --- |
| Technical data | |
| | Caddy™ Arc 151i |
| Primair voltage V/ph Hz | 230/1 50/60 |
| Zekering (traag), A | 16 |
| Toegestane belasting bij 40ºC, MMA | |
| 25% inschakelduur, A/V | 150/26 |
| 60% inschakelduur, A/V | 100/24 |
| 100% inschakelduur, A/V | 90/23,6 |
| Instelbaar MMA (DC), A | 8 - 150 |
| Open voltage, V | 58 - 75 |
| Afmetingen l x b x h, mm | 418 x 188 x 208 |
| Gewicht, kg | 7,4 |
| Isolatieklasse | IP 23 |
| Toepassingsclassificatie | S |
| Standaards IEC 60974-1, IEC 60974-10 | |
Bestel informatie
Caddy™ Arc 151i, A31 pakket incl. 3 m MMA
las- en aardekabel en lastang (schroefkoptype ) 0460 445 880
ACCESSIORES
Draagriem 0460 265 003
Trolley (voor 5 tot 10 l gas cilinder) 0459 366 885
Trolley (voor 20 tot 50 l gas cilinder) 0459 366 886
Trolley (voor 20 tot 50 l gas cilinder) 0460 330 880
TIG toorts TXH™ 150V OKC50, 4m 0460 011 843
TIG toorts TXH™ 150V OKC50, 8m 0460 011 883
Lashelm Albatross 1000, 90x110 0349 502 204
Lashelm Eye-Tech Mono 10/11, weight 480 g 0700 000 888
Lastang Comfort 200 0700 006 004
Lastang Handy 200, 0700 006 003
Lastang Prima 200, 0700 006 006
Aardkelm MP 200 0367 558 880
Lasbikhamer SH2 0000 663 000
Lasbikhamer SH3 0683 200 001
Lashandschoenen Heavy Duty Basic 0700 005 007
Lashandschoenen Heavy Duty Regular 0700 005 008
Lashandschoenen Heavy Duty Excel, L 0700 005 009

De folder van deze machine als PDF? Klik dan hier

Caddy™Arc 151i
Portable solutions for professional welding
The Caddy™ name has always been synonymous withrobust and durable welding tools designed for theprofessional welder. Introducing the fifth generation ofportable welding equipment from ESAB the latestCaddy™ machines have over 30 years experience ininverter technology built in.

Designed for durability
The machines are equipped with the large OKC 50 cable
connectors for higher durability. The compact design, with its impact resistant polymer and aluminium casing, is light and easy to carry, yet the size does not compromise the important cooling of the internal components. Large heat sinks and clever design make for a cooler running machine with a longer life expectancy when used in harsh working environments. The design also helps to keep all sensitive parts inside the machine clean and dust free. Caddy™ is built in accordance with IP23, which means it can be used
outdoors – even in the rain. The control panels are easy to understand and use. The durable design and the superior welding performance give you a machine that you can rely on day after day.


Control panel
The control panel Caddy™ A31 has only one knob for current setting making it extremely easy to set and use
even with your gloves on.




MMA welding
Caddy™ Arc supplies direct current and you can weld
most metals such as alloyed and non alloyed steel,
stainless steel and cast iron. The arc force and hot start
setting is adjusted automatically according to the set
welding current giving excellent welding performance over the whole range of the machine.
With Caddy™ Arc 151i you can weld most electrodes
from Ø1.6 -3.2 mm and some 4 mm electrodes.
TIG welding With Caddy™ Arc you can easily do TIG-welding with scratch start. All you need is a TIG-torch with a gas valve, a gas regulator and a bottle of gas. You can weld mild steel or stainless steel with or without filler material.

Applications
• Professional welding tool
• In and outdoor installation on site
• In and outdoor repair and maintenance on site
• In and outdoor fabrication

• Easy to use – Set the welding current and weld with
excellent result
• Practical design - makes the power source easy to carry which enables use at almost any work site
• Robust design - withstands rough environments
• IP 23 - fit for outdoor use making it safe on all work sites.
• Can be used with extended mains cable - provides extended working range.
| | |
| --- | --- |
| Technical data | |
| | Caddy™ Arc 151i |
| Mains voltage V/ph Hz | 230/1 50/60 |
| Fuse (slow), A | 16 |
| Permitted load at 40ºC, MMA | |
| 25% duty cycle, A/V | 150/26 |
| 60% duty cycle, A/V | 100/24 |
| 100% duty cycle, A/V | 90/23,6 |
| Setting range MMA (DC), A | 8 - 150 |
| Open circuit voltage, V | 58 - 75 |
| Dimensions lxwxh, mm | 418 x 188 x 208 |
| Weight, kg | 7,4 |
| Enclosure class | IP 23 |
| Application classification | S |
| Standards IEC 60974-1, IEC 60974-10 | |
Ordering information
Caddy™ Arc 151i, A31 package incl. 3 m MMA
welding and return cable kit ("screw" type holder) 0460 445 880
ACCESSORIES
Shoulder strap 0460 265 003
Trolley (for 5 to 10 l gas cylinder) 0459 366 885
Trolley (for 20 to 50 l gas cylinder) 0459 366 886
Trolley (for 20 to 50 l gas cylinder) 0460 330 880
TIG torch TXH™ 150V OKC50, 4m 0460 011 843
TIG torch TXH™ 150V OKC50, 8m 0460 011 883
Welding helmet Albatross 1000, 90x110 0349 502 204
Welding helmet Eye-Tech Mono 10/11, weight 480 g 0700 000 888
Electrode holder Confort 200 0700 006 004
Electrode holder Handy 200, 0700 006 003
Electrode holder Prima 200, 0700 006 006
Work clamp MP 200 0367 558 880
Chipping hammer SH2 0000 663 000
Chipping hammer SH3 0683 200 001
Welding gloves Heavy Duty Basic 0700 005 007
Welding gloves Heavy Duty Regular 0700 005 008
Welding gloves Heavy Duty Excel, L 0700 005 009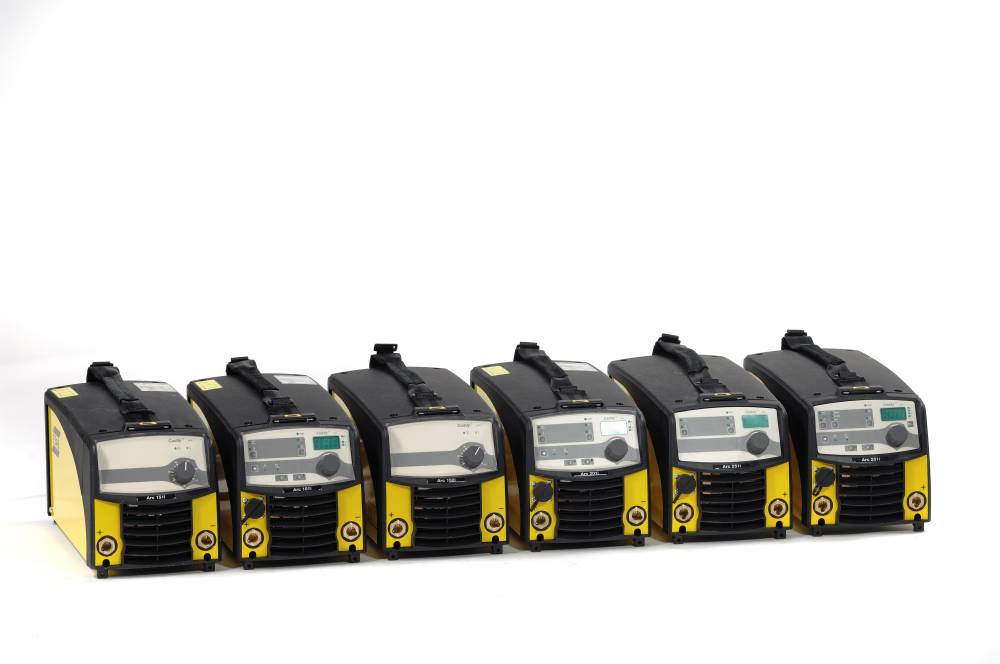 Verwacht medio 2008